The Geneva Option by Adam LeBor
Mystery/Thriller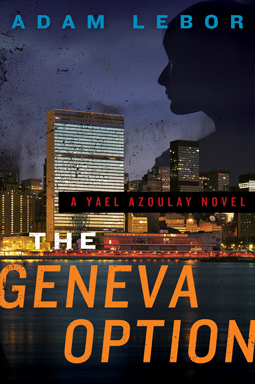 Yael Azoulay's star has risen quickly at the United Nations. She is responsible for negotiating deals with some of the worst people you could imagine. Her back-room dealing never sees the light of day until she starts dealing with Jean-Pierre Hakizimani, a Hutu that massacred Tutsi during the Rwandan genocide. Yael despises the deal that Hakizimani is being given and writes a memo to the Secretary General of the UN stating as much. The memo finds its way to the press where Sami Boustani, a New York Times reporter, runs with the story. There's more at stake than just the Hakizimani deal though. The UN seems to be planning something in Africa that could result in another war breaking out.

Years ago, strong female leads would be hard to find in books. These days it seems to be the latest fad to write main characters that are female and kick ass. Yael is one of those, yet in no way fits in to the stereotype. She is a very exciting character. She's intellectual and can hold her own in a fight. She reaches out for help when she needs it, though that's rare. She also isn't predictable, which made for an even more exciting read.

I really enjoyed reading about the back rooms of the UN. LeBor did not portray the organization in a very positive light and I'm sure there is some truth to the corruption that exists at all levels. The extent to which LeBor knew the subject of the book was impressive. It's obvious that he has covered news stories in his journalism career that he brought in to the book. Having read books about both the Rwandan genocide (and specifically fellow Canadian UN peacekeeper Romeo Dellaire) and Bosnian war, I feel like I was a step ahead while reading this book. As much as I appreciated LeBor providing the back story, at times I felt it distracting. Just as I was turning pages quicker in anticipation of the story line it was broken up with a piece of back story history. Further to that, the number of acronyms used in this book was staggering. I found myself flipping back a few times to remember what SG, EGS, ECLF, DPA, etc. stood for.

This is one of the more exciting mystery thriller books I've read in a while. I'd love to read another Yael Azoulay book and see her kick some more ass. I recommend you go get the book and as I wait for the next Azoulay book to come out, I'll read this free short story from her!

Thanks to TLC Book Tours for letting me be part of this book tour.
First Line: "The wind rose and fell through the airshaft, roaring so loudly it seemed the building was breathing."
Rating:

(4/5)