Fiction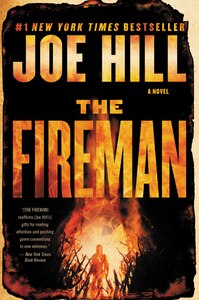 Dragonscale is sweeping the world, burning people and leaving nothing but ash. Maine is a charred wasteland and people hunt those with dragonscale to kill them. Harper works at the local hospital to try and help those sick as much as she can but even the hospital isn't safe. When that goes up in smoke, Harper finds out she has the disease. Harper and her husband made a suicide pact when this disease first started spreading but now that Harper finds out she's pregnant, she's not so interested in killing herself. He husband, who isn't sick, still thinks she should die.
Harper escapes to a camp that hides those with Dragonscale with the help of the fireman. They have found a way to control their disease, which gives Harper hope that she'll be able to live with her baby. But with more than 100 people in this camp, there are 'Lord of the Flies'-type social problems at the camp.
I really enjoy apocalyptic stories because of the imagination that it takes to come up with what kills off most people and how people are coping with it. This is a unique disease and a unique way of dealing with it. Of course, at the core of it this book isn't about the scale. This is just the icing on the cake. But it's really nice icing.
The core of this book is Harper, her relationship with her husband and the fireman, and how these hundred folks with dragonscale create (or destroy) a community they've built up for themselves. Harper, for the most part seems pretty sensible. She's a nurse, she loves Mary Poppins, and she gets rightfully annoyed at people. Her ex-husband is a piece of work that wants to kill her and her new love interest and create birds made of fire. Then there's the community, which is full of a whole bunch of interesting characters.
While I really enjoyed this book, I won't give it a perfect review for two reasons. First, I feel like the book could have lost a hundred or two pages and not lost anything in the story. Second, because Harper and the fireman fall in love after only talking to each other or seeing each other 3 times, which is completely unrealistic.
I still recommend this one though!
Thanks to
TLC Book Tours
for letting me be a part of this tour. Be sure to get your copy at
Harper Collins
.
First Line:
"Harper Grayson had seen lots of people burn on TV, everyone had, but the first person she saw burn for real was in the playground behind the school."
Rating:
(4/5)
About the Author
Joe Hill is the author of the New York Times bestsellers Horns, Heart-Shaped Box, and NOS4A2. He is also the Eisner Award-winning writer of a six-volume comic book series, Locke & Key. He lives in New Hampshire.

Find him on Facebook, Twitter, or at his website.